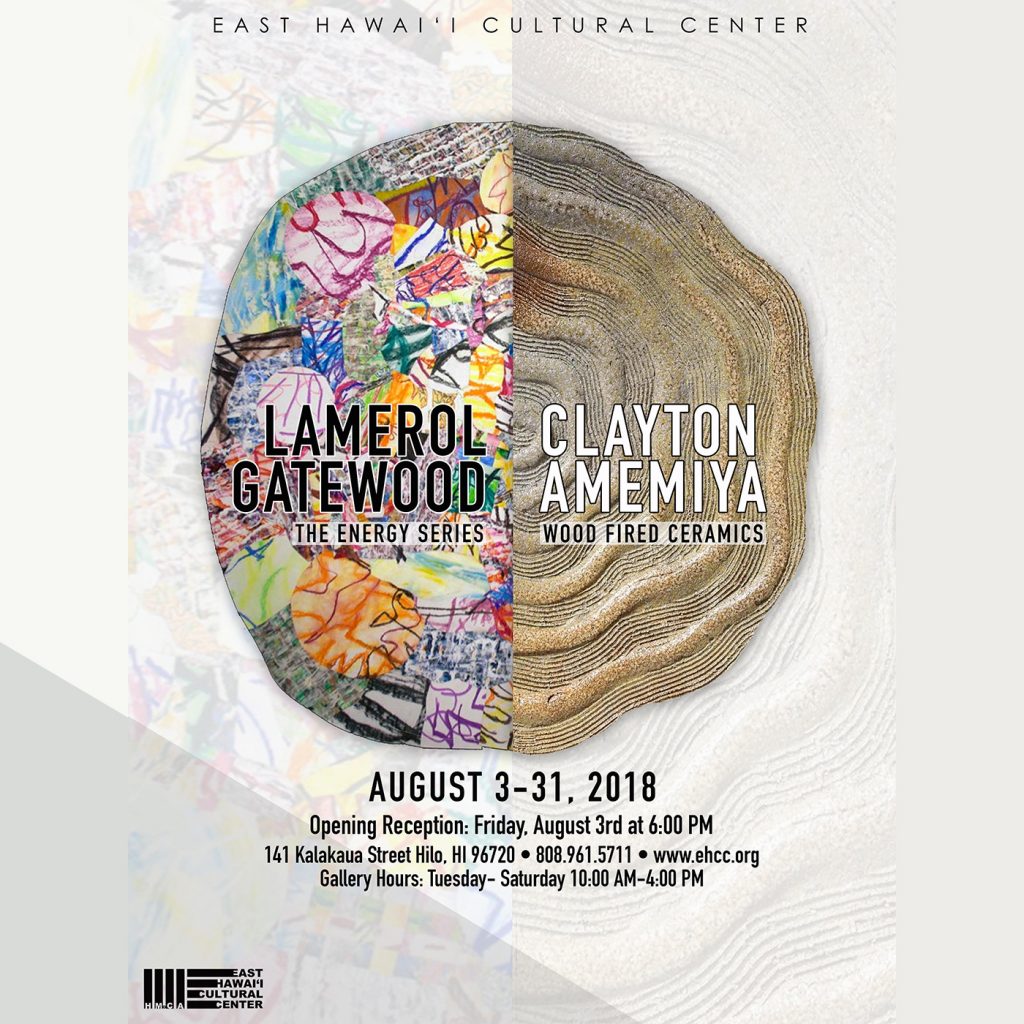 Originally published in the Hawai'i Tribune Herald, August 24, 2018
The current exhibition at EHCC brings together two artists with distinctly different backgrounds, experiences, and formal and technical approaches to work and media. A more unlikely pairing would be hard to come by anywhere in the world. The richness and overall effect of the entwined solo exhibitions by Clayton Amemiya and Lamerol Gatewood is wonderful and visually satisfying. Introductions provided by Stephen Freedman and Michael Marshall.
Hidden away in the hills of Waiakea Uka above Hilo, Clayton Amemiya has been producing wood-fired ceramics for over 30 years. The interaction of traditional Japanese pottery-making techniques and the effects of 100 hours of firing using ohia, lychee, kiawe, eucalyptus and pine generate works that are at once reflective of ancient traditions, yet uniquely "of Hawaii".
His kiln, an anagama (tunnel kiln), consumes over two cords of wood in a long firing, producing fly ash that coats parts of the finished pots in a natural glaze. Rubbings of oxide powders such as cobalt, copper and manganese on some vessels interact with the wood ash, creating areas of blue, purple, black and green. At times the intensity of the firing accumulates expressionistic ash rivulets down vessel surfaces.
Most of the pots in this current exhibition were fired in the last three years, many of them two or three times, thus exposing the clay to 300 hundred hours in the kiln. The pots evolve with each firing. Carved lines and grooves in their surfaces are reminiscent of patterns in lava and sand, the Hawai'i Island environment, a ubiquitous influence in the work.
Clayton studied with master potter Seisho Kandiyohi (1943-2000) of Okinawa in the mid-1970's, and has fired an anagama for the past 25 years. He has exhibited in the U.S., Japan and China, and his works are included in public and private collections in the U.S., East Asia and Europe.
With paper, scissors, glue, paint, charcoal, pastel, acrylic, glitter, oil bars, and other media, Lamerol Gatewood orchestrates a world view in his body of "Energy Series" works. The juxtaposition of elements, according to the artist, was shaped in a two-phased cauldron of Black experience initiated in midwest St. Louis, MO., through exposure to Jim Crow, Hard Bop, and Free Jazz improvisation, then deepened during his decades of living and working in Brooklyn, NY. The artist's exuberant full-stop forward process simultaneously drives an aesthetic that savors all possibilities including collapse. Everything here is at risk.
Gatewood's relentless visual conversation delineates a response to the NYC area experience that is explosively raw and emotive. His New York is unrestrained by the formalism and primary color limit that bind Piet Mondrian's 1942-43 "Broadway Boogie Woogie". This series of works on paper is executed with an ethos not so far removed from the monochromatic 3-dimensional wood assemblages of the late American sculptor Louise Nevelson (1899 – 1988) who also claimed "energy makes energy". Gatewood, in this presentation, commands a free zone of visual expression.
In his navigation of a path forward, Gatewood states "… my best work [is created] as I meditate about the global black experience in the modern world while immersing myself in the sounds of Jazz and African Diasporic music." Those sounds currently include work inspired by contemporary musicians and composers Lianne La Havas, William Parker, Warren Smith, Cecilia Smith, Alvin Singleton, LaFayette Gilchrist, Matthew Shipp, Oliver Lake, Josh Evans, and Donal Fox.
The exhibition, which opened August 3, remains on view through August 31, 2018. EHCC gallery is open Tuesday through Saturday from 10:00 am until 4:00 pm.