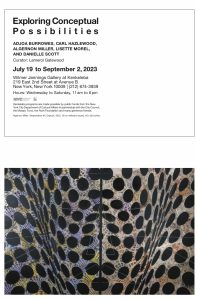 The public is invited to an art exhibit at the Wilmer Jennings Gallery at Kenkeleba featuring the conceptual art of acclaimed Black artists from throughout the country. The exhibit, "Exploring Conceptual Possibilities" features selected works of Adjoa Burrowes, Carl Hazlewood, Algernon Miller, Lisette Morel, and Danielle Scott.
Wilmer Jennings Gallery
219 East 2 nd Street, New York, NY 10009
Office: 212-674-3939
Corrine Jennings, Director
Lamerol A. Gatewood, Curator
Gallery Hours: Wednesday to Saturday | 11 am – 6 pm
Reception: Saturday, August 5, 2023 | Time: 3-6pm | Featuring: Anthony Worsey, Solo Piano.