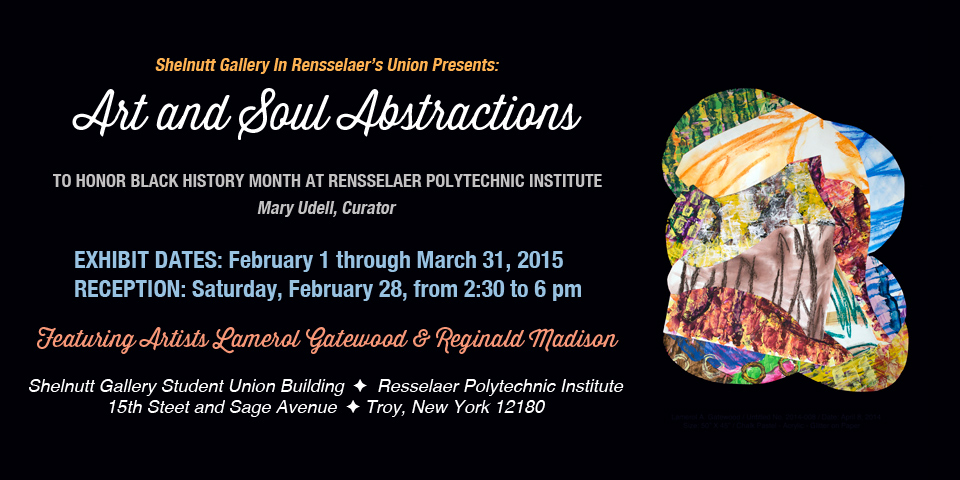 SHELNUTT GALLERY in RENSSELAER's UNION
Mary Udell, curator
PRESS RELEASE / FOR IMMEDIATE RELEASE
TO HONOR BLACK HISTORY MONTH AT RENSSELAER's UNION
ART AND SOUL / ABSTRACTIONS
L A M E R O L  G A T E W O O D  &  R E G I N A L D  M A D I S O N
Art Exhibition co-sponsored by the Black Students' Alliance
Ricardo Johnson, President / Black Students Alliance at Rensselaer
EXHIBIT DATES: February 1 through March 31, 2015
RECEPTION: Saturday, February 28, from 2:30 to 6 pm.
This annual 2015 show, ART AND SOUL / ABSTRACTIONS to honor Black History Month at RPI, features the abstract paintings and collages of LAMEROL GATEWOOD and REGINALD MADISON. Gatewood and Madison have previously shown together at the Shelnutt Gallery.
---
Lamerol Gatewood was born in St. Louis, Missouri. After high school, he continued his education at the Lindenwood University in St. Charles, MO receiving his B.F.A. in 1977. He continued on to Southern Illinois University and received his MFA 1986. In 1986 he was offered a position with the New York City Board of Education in Brooklyn, NY.  He taught art for 25 years and recently retired in 2012.
Gatewood has been a guest lecturer at universities and art centers in Illinois, Missouri, Pennsylvania, New Jersey, and Amsterdam, the Netherlands. In 2014, after retirement from the department of education, Gatewood now paints full time in his studio in Brooklyn, making delightfully exuberant and vibrant paintings and collages. Over the years, he has received honors and awards at universities and museums throughout the United States and overseas.
On June 18, 1992, Lei Issacs wrote in the Woodstock Times, "Unidentified Figures grace the canvas at Watermark Cargo Gallery in Kingston, NY." In 1995, Gatewood participated in ARTI ET AMICITIATE, "Other Bloods, in Amsterdam, the Netherlands. Gatewood received the Joan Mitchell Foundation Grant in 1995; even earlier in 1989 he was awarded the Aaron Davis Hall "Best in Show" at the City College of New York/CUNY, 'All Harlem Art Exhibition.
In the summer of 2014, his work was displayed in a group exhibition at the Walton Gallery in Petersburg, Virginia. In February, 2013 he participated in '2-5-Oh! Sadness and Struggle in the Mound City, Salon 53, St. Louis, Missouri, Freida Wheaton, Curator. In 2013, Lamerol Gatewood and Lawrence Hilton, donated ten paintings to his alma mater Lindenwood University.  The paintings are exhibited in the hallways and lecture halls throughout the business school.
Regarding the body of work in this show, Gatewood says, "My current painting-drawings are a conceptual idea and problematic approach to the creative process of collage making. I can experiment using multiple media 'oil sticks, acrylic, charcoal pastels, charcoal, glitter and interference colors' in an unlimited way. Each individual drawing or painting, I call panels, is now free to be conceived as a new visual work of art. The collages measure several feet in each dimension."
He continues, "My paintings \ collages in this ART & SOUL Exhibition are Dedicated to my Parents. "Thanks Mom and Dad for all your support because the two of you allowed me to be a free thinker."  Love You Forever.
Robert Lee Gatewood, February 24, 1931 – November 3, 2014
Florida Mae Gatewood, May 11, 1932 – December 2, 2014
---
Reginald Madison was born in Chicago, Illinois and was influenced by the pulsating music and the entire "art scene" in that great city. After high school, he got a job in the steel industry and became a crane operator. He says, "I was able to sketch from my cab high up in my city of Chicago which enabled me to join its burgeoning art scene."
He was greatly influenced by trips to the Art Institute of Chicago and the Museum of Contemporary Art. Shortly after that, in 1970, he was invited to participate in an art show in a downtown storefront. Currently, those shows are referred to as 'Pop – Up'.
That show, titled "Art and Soul", Contemporary Black Chicago Artists established downtown Chicago as an emerging arts scene in the United States and Reggie Madison rolled along with it. Thus the title for this show. He went on to travel and study art independently in the early 1970s in Paris, Venice & Copenhagen. Shortly after he moved to a Greenwich Village studio in New York City where he remained for several years. Then a stay of several years in Housatonic, Massachusetts and currently in downtown Hudson, NY. In Hudson, he has shown at the Carrie Haddad Gallery and the John Davis Gallery, both on Hudson's famous Warren Street. His paintings can be enjoyed at Club Helsinki, a venerable music club and performance space in Hudson, New York, formerly of Great Barrington, Massachusetts.
Reginald Madison was heralded In a New York Times art review of a show in Great Neck, NY -praising his paintings as "chief among the discoveries of 1992's Contemporary Black Artists." 'His paintings are bold and direct, using bright almost garish color and agitated form to highlight the emotional intensity of his subject.'
As he progressed, his work drew heavily on autobiographical themes developing a more fluid painterly style with roots in abstract expressionism. The paintings in this show at the Shelnutt are more subdued and historic. ESHU, an oil on wood depicts the African God Eshu, not only a god but also a prankster who gives people advice when they come to critical decisions in their lives. 'Eshu', is 24″ high by 17″ wide showing deeply impastoed textural vertical and horizontal lines in deep reds and blues with a time line of decision points in one's life. Madison says, "All works are 'acts of faith' and they all began with the first stroke." Currently, he is embarking on a year long project of large scale wood wall reliefs using found objects with an emphasis on African themes. One is complete now, 7 feet tall.
---
On Saturday, February 28, at 3 p.m., noted musician Dr. Ade Knowles will perform at the Reception of 'Art and Soul' in the Shelnutt Gallery with 'Ensemble Congeros' and his new group, 'Roots of Africa' playing African and AfroCuban music. This is a long standing tradition at RPI which began in the Shelnutt Gallery in the early 2000's.
Once again a celebration of exciting 'art and music'. Please Join Us! Udell says, " I would love to see this exciting show travel to the Studio Museum in Harlem, and/or the New York State Museum in Albany."
For gallery hours, call the Student Union Office at 518/276-6505.